One of the most common tools used in surgical procedures is a needle holder. These surgical instruments hold significant importance due to their incredible performance during surgical procedures such as stitching. Being an essential part of a surgical toolkit, these surgical holders are used massively while working with the needles. Moreover, one important factor is that the size of the holder and the needle should match. Also, needle holders are ideal for the opening and closing of wounds as they make the procedure much smoother. We at Acheron Instruments have an extensive variety of needle holders to suit multiple application needs. Our instruments are fine, sharp, and durable as they are manufactured in premium quality material. Millions of medical practitioners across the globe use and rely on our surgical instruments that set high standards in the field of surgery.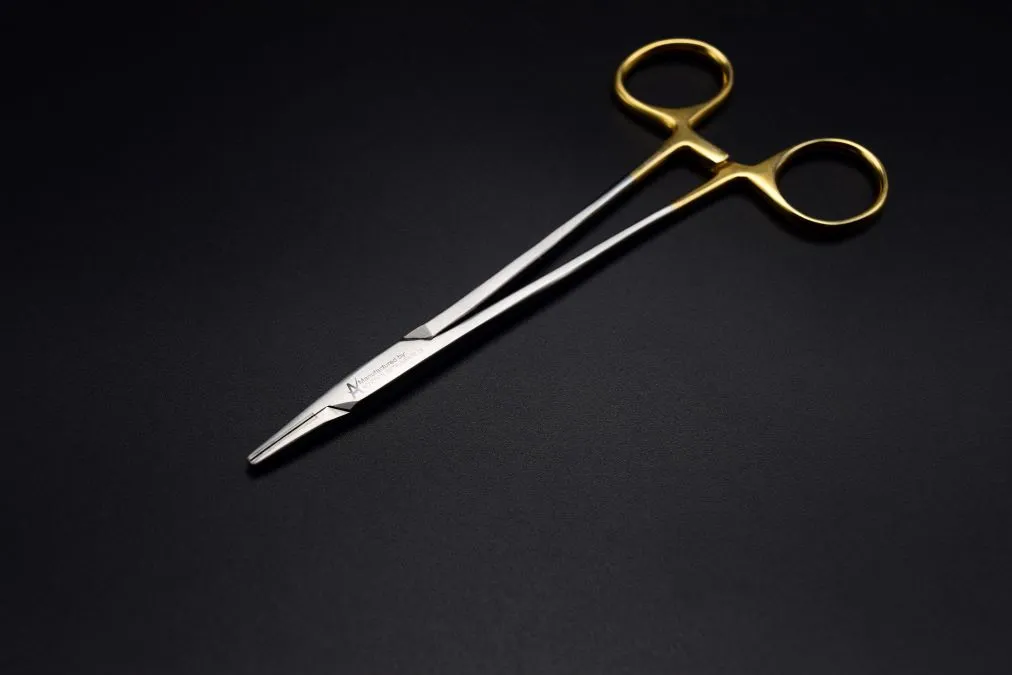 Introduction to Needle Holder
A Needle holder also referred to as a needle forceps or needle driver has a surgical scissors kind of appearance. These holders are greatly useful in anatomical surgical fields and other surgical procedures such as stitching. During surgical procedures, they tend to grasp the suturing needle to keep it in place throughout the procedure and aid in its functionality. These specialized hemostats are available in different sizes and designs. Also, different sizes of needles can easily be adjusted on these holders that are available in different designs.
As needle holders are an essential component of surgical procedures, one must handle them with great care to prevent potential slips or falls. Also, it is advisable to have a firm grip on specific application techniques and proper training to hold these holders. It's very important to use these holders in the right way because any kind of negligence can lead to serious complications. This tool has a ratchet mechanism to allow a firm grip on the tool.
Characteristics of the needle holder
The smooth functionality of needle holders while stitching the wound site allows the skin to heal properly and hence makes the skin regenerate and recover sooner. The prime functionality of needle holders is to move the needles but it would not be right to restrict this incredible tool to this specific function only. These needle holders can also lift the tissues while working on anatomical structures. Despite any surgical procedures, the counterparts of this instrument have prime significance. This tool is also used to tie the two ends of a stitching thread. A great amount of strength is provided to the hands and jaws by the powerful handle of this tool.
Major uses and functions of the needle holder
The primary function of a Needle holder is closing wounds to initiate healing.
Being an important component of surgical procedures, this tool moves the needle by keeping the needle in place while stitching and helps to stop the bleeding.
These holders are greatly useful to cut and open the stitches as well as to close the end of the wound.
These holders are also used in moving the tissues in certain cases.
Different types of needle holders
There is a wide range and variety of needle holders available in different styles and sizes. A surgeon must be conscious and trained while using needle holders. The usefulness and effectiveness of this tool are anticipated to improve in the future due to continual advancements.
There are various types of needle holders available and it's important to buy the one that suits them best. Some of the most commonly used holders used by the surgeons are as follows:
Adson holder
Adson needle holders typically come in a smaller size and are lightweight. This specific holder pairs best with smaller-sized needles used for addressing minor injuries and wounds. The ribbed design of its jaws enhances the brilliant performance of this tool. The functioning of this holder is great and trouble-free due to the ratchet mechanism.
Mayo Hegar holder
The clamp-like functionality of the Mayo Hegar holder makes this tool ideal for dual purposes. It can also serve as an ideal alternative to hemostats in certain cases. The principal counterparts of this holder are the handle, ratchet mechanism, and jaws. All these parts work collectively to enable and ensure successful surgical procedures. This tool is durable and long-lasting. The user can have a strong grip on this tool and move it to his will because of its unique handle design. The ribbed pattern of jaws enables smoother strokes. Neurosurgical procedures use this tool extensively for effective performance.
Baumgartner (Tungsten Carbide)
Baumgartner needle holders comprise golden-colored tungsten carbide inserts. These inserts work tremendously on hard and dense anatomical structures as they are extremely powerful. The features of this surgical tool are remarkable because of its unique combination of tungsten carbide and steel. The astonishing features include ergonomic handling, featherweight design, and a corrosion-free body.
Crile-Wood Needle Holder
Crile-Woo needle holders are surgical instruments characterized by serrated jaws, and they are frequently employed to securely grasp and manipulate thicker or heavier needles and sutures during a wide range of surgical procedures. These instruments are designed to provide a firm and stable grip on needles and sutures, which is especially important when dealing with tougher tissues or materials that require a stronger hold. The serrations on the jaws of the Crile-Wood needle holder enhance their ability to maintain a tight grip on the needle or suture, reducing the risk of slippage or accidental dislodging during the surgical process.
Needle holders are always an integral part of operating room kits. These instruments are widely preferred by surgeons to perform a broad array of surgical operations. If you are in search of the best surgical instruments in Pakistan, you've reached the right place! We deliver high-quality surgical items in Pakistan and across the globe with fast delivery services.
Frequently Asked Questions:
What is the other name of the needle holder?
Needle holders are also known as needle forceps or needle drivers. Their main function is to firm the suturing needles in different procedures.
Q: What is the significant use of holders in suturing procedures?
A: Holders play a crucial role in procedures. They securely grip and maintain precise control over needles throughout the surgical procedure.
Q: What safety benefits do needle holders provide for both surgeons and patients?
A: Needle holders reduce the risk of accidental needlestick injuries to surgeons and provide better control during surgery, enhancing patient safety.

Q: What are the primary components of a typical needle holder?

A: A typical needle holder consists of three primary components: two jaws with serrated surfaces for holding needles, a shank that connects the jaws, and handles or rings for the surgeon to grasp and control the instrument.3
Share this post