Want to know about Surgical Instruments Companies in Germany? Surgical instruments hold a vital importance in operating rooms. These precision tools are not only essential for a successful surgical procedure but also contribute to making lengthy procedures fatigue-free for surgeons. Talking about these valuable tools, Germany has been linked with top-tier quality precision instruments for a long. Surgical instrument companies in Germany are well known for producing high-quality tools. However, one of the primary challenges faced by healthcare institutions is the choice between cost-effectiveness and quality of the surgical instruments.
Let's talk about the fascinating revelation that's a game-changer in the world of surgical instruments! Acheron Instruments based in Sialkot, Pakistan is one of the best surgical instruments manufacturing companies in Pakistan is breaking new ground and is directly competing with some of the leading surgical instruments manufacturers in Germany.
The Legacy of German Precision
There is no doubt that German surgical instruments are always associated with precision, high quality, reliability, and durability. This country is home to numerous esteemed surgical instrument manufacturers who have earned a reputation for producing exceptional quality surgical tools. However, one important thing most consumers are unaware of is that a significant portion of these German instruments originate from Sialkot, Pakistan.
The Rise of Pakistan's Surgical Instrument Industry
Over the past few years, Pakistan has emerged in the global surgical instruments market as a significant player. Pakistan manufacturers provide a diverse range of instruments at budget-friendly prices as compared to their German counterparts. This has made them an appealing choice for healthcare facilities looking to balance quality and budget considerations.
Acheron Instruments: Revealing the Reality of Surgical Instruments in Pakistan versus Germany
Acheron Instruments leads the charge of this discovery! We are based in the global hub of surgical instrument production, Sialkot, Pakistan. "The city's craftsmen and manufacturers have refined their expertise through generations, creating an extensive range of reliable surgical instruments. Moreover, These instruments are exported globally and play a vital role in the healthcare industry. What distinguishes us from traditional German manufacturers is our commitment to quality, affordability, and precision.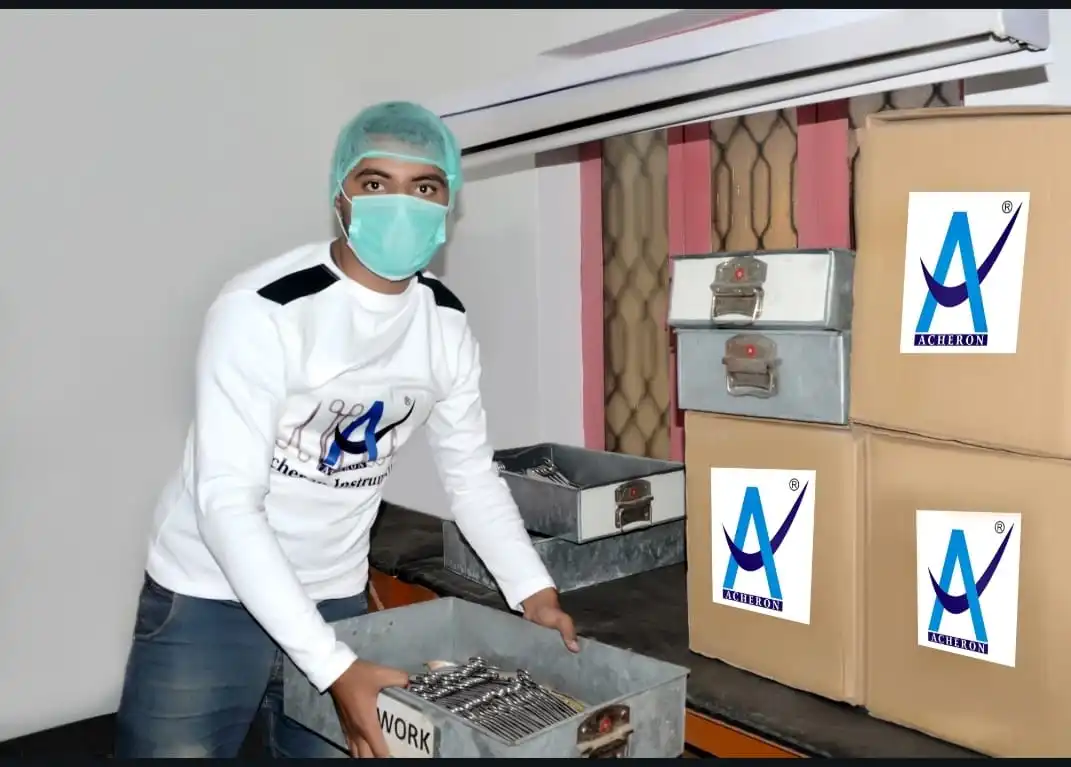 German Excellence in Surgical Instruments
German stainless steel surgical instruments are well known for their durability and exceptional quality. The steel chosen for manufacturing these instruments provides superior strength to the tools and is resistant to corrosion. These factors contribute to producing a high-quality tool that lasts longer in the surgical toolkits. Also, healthcare providers across the globe rely on German instruments due to their precision and long-lasting performance in the demanding environment of the operating room.
Why chose Acheron Instruments?
What if you can get German-grade stainless steel material at cost-effective prices? That too, without compromising on the quality and durability of these tools? Acheron Instruments creates a balance between cost-effectiveness and quality. Our mission is to bridge the gap between these two factors by offering high-quality instruments at reasonable prices. Not just that! Our surgical instruments are worth buying because:
Exceptional quality:
We understand the importance of German-forged surgical tools and hence we craft our tools with the same precision and care as those from Germany. Moreover, we craft our surgical instruments considering the German standards of quality and excellence for maximum customer satisfaction. Our instruments are made of high-grade German stainless steel material that makes them robust, durable, and reliable.
Competitive pricing:
We have priced our surgical instruments at significantly lower prices than those in Germany without compromising on the quality and precision associated with German surgical instruments. Who wants to miss the opportunity to avoid spending hundreds of bucks on instruments and get them at the best possible rates? Also, we do not bear the burden of hefty brand premiums.
Broad product range:
We provide an extensive range of high-quality surgical tools ensuring you get the right product for your specific need. Furthermore, our wide of high-quality surgical tools include surgical scissors, retractors, forceps, dental instruments, plastic surgery instruments, veterinary instruments, and much more!
Quality assurance:
We ensure that our surgical instruments meet the highest quality industry standards. Therefore, we maintain rigorous quality control and assurance protocols for our instruments.
Expertise and Experience:
Our instruments are carefully crafted with highly skilled technicians. Also, we have a team of highly skilled professionals and extensive industry experience who are committed to providing you with the best products.
Direct Sourcing:
While numerous German companies opt to outsource their manufacturing to Pakistan, we offer you a direct source. Direct sourcing of our surgical tools will not only provide greater transparency for you but will also enhance your overall customer experience. You can deal directly with us and we are readily available to assist you with any of your queries for more streamlined and transparent procurement processes.
Customization:
We can tailor our instruments to meet your unique requirements, whether it's specific branding, designs, or packaging.
Regulatory Compliance:
We adhere to all quality standards and necessary certifications including ISO and CE. Also, our instruments meet the same regulatory requirements as those from Germany.
Global Reach:
Our products are accessible to a worldwide audience, facilitating easy procurement for medical institutions and healthcare professionals globally.
Reliability:
We take pride in delivering the best quality instruments with excellent customer service. We value our esteemed customers and provide them with reliable surgical tools with timely delivery and less cost. Also, We're a reliable partner in your supply chain.
The bottom line
No one wants to pay an extra hundred bucks when a product of the same quality is available at less cost. In simple words, when you purchase from surgical instruments companies in Germany, you are paying a hefty amount for the brand equity. However, Acheron Instruments Pakistan promises to provide high-quality quality reliable surgical instruments at a fraction of the cost as compared to Germany. Our craftsmanship, precision, and materials match those from Germany, without the added expense.
Healthcare costs are a critical concern these days. So, choosing the right product and buying it directly from Pakistan can be a game-changing decision. If you are sourcing your surgical instruments from Germany or any other country, it's time to rethink your decision. Acheron Instruments will be your cost-effective, quality, and reliable partner. You won't regret your decision to buy high-quality stainless steel instruments from our company!
FAQ's
Is there any key difference between surgical instruments made in Germany and those made in Acheron Instruments Pakistan?
The only difference you'll see is of price difference. Instruments sourced from Germany are generally of higher prices than ours.
Can I customize surgical instruments when purchasing from Acheron Instruments Pakistan?
Yes, we offer customization services, allowing you to tailor instruments to your specific needs.
How can I order from Acheron Instruments?
You can contact us via email or the contact number given on our page for further assistance.
What is the approximate delivery time for surgical instruments?
The delivery time varies based on the quantity of surgical supplies. You can talk with our representative for further guidance.
Share this post